Teardown Apple's new iPhones have been torn apart to reveal their innards – and we're told if you're prone to lobbing your new handset at the ground, there's a good chance it's repairable.
The chaps at iFixit have given both the 5.5-inch iPhone 6 Plus and 4.7-inch the iPhone 6 seven out of ten in terms of repairability, after tearing down the devices to their components.
The iPhone 6 and 6 Plus sport an Apple-designed A8 64-bit ARMv8-compatible system-on-chip: it has a couple of billion transistors, is manufactured by TSMC using a 20nm process, and has two cores running at 1.38GHz. A gigabyte of Elpida LPDDR3 RAM is in the same package.
The phones use chips from Qualcomm, SkyWorks and Avago for LTE, 4G and 3G support, and Murata for Wi-Fi. NAND flash storage is provided by SK Hynix, and the touchscreen is driven by a Broadcom part. An ARM Cortex-M3 microcontroller from NXP is the M8 motion monitor coprocessor, and another NXP chip provides the NFC connectivity.
The gang was able to purchase the iPhone 6 and 6 Plus in Australia when, at 1000 AEST, the gadgets officially went on sale for queued-up fanbois.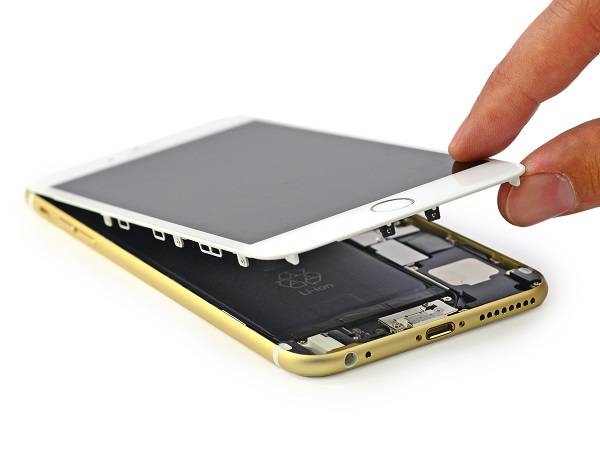 The newer, easier to open 5.5-inch iPhone 6 Plus phablet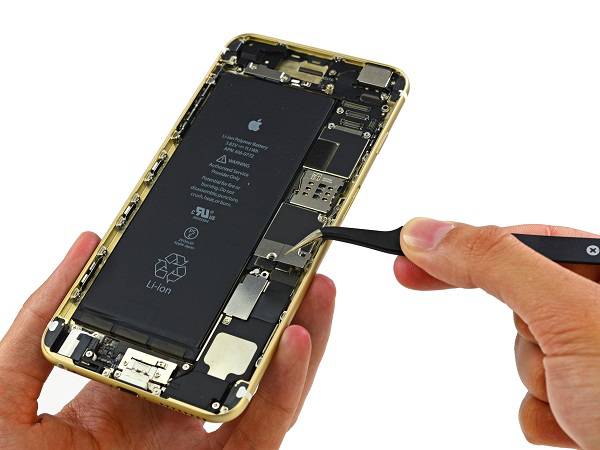 A huge battery that's not a pain to pry out
The iFixit team said the handsets' simplified design and the use of adhesive strips make the components easier to replace. The flimsy Home button cable in the iPhone 5 series, which could be easily broken when the case was opened, has been lengthened and repositioned, making it more robust in the 6 series.
"Gone is the awkwardly short and fragile cable of the iPhone 5s days," the iFixit techies wrote. "Instead, Apple has made the effort to run the home button cable all the way to the opposite end of the phone. We're quite happy to see this improvement."
Additionally, researchers found that the battery on the new handset is far larger than previous models, and is easier to remove. During the teardown, the guys were able to pull away the adhesive strips securing the battery with little effort and fully remove the component.
Such features will be welcome news to third-party repair houses who fix broken iPhones. By making the device easier to open and manipulate, Apple could allow users better access for repairs.
That hasn't always been the case with Apple. The company has in the past drawn criticism from iFixit for making hardware that is difficult for users and third-parties to open and repair when things fail.
Critics argue that such policies cause an increase in e-waste and hazardous materials as older devices get thrown out and replaced rather than repaired and recirculated.
Apple is not alone in facing this criticism, however. Other vendors, such as Microsoft, have drawn similar criticism for making their devices incredibly hard to repair. ®