Step into my world
The whole premise of Windows Phone 7 is information at a glance. The idea is that important information is already on the screen, so you don't have to muck about opening applications and searching for stuff. That's a good premise, and works to some extent, as long as your idea of important information matches Redmond's.
Starting with the lock screen, which shows your next upcoming appointment as well as the traditional time and date, something that has already proved useful when trying to remember where we're going. That lock screen will also show music controls for a few seconds if there's music playing - so you can pause, skip track or replay without even unlocking the phone.
Once you slide the lock out of the way you get to the home screen, which Microsoft insists on calling "Start", to blend identities with its desktop OS.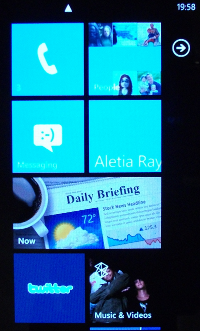 The tiles slide up and down, and there's a boring old list of applications to the right
Out on the tiles
Those tiles are supposed to be superior to icons, and not only because they're bigger. The idea is that they display contextual information based on the applications behind them, pushing the idea that important information can be seen at a glance rather than having to open applications. The only problem is that most of them don't, and those that do don't always make it clear what they're displaying.
The Phone tile, for example, shows missed calls and voicemail, only the simplicity of the interface makes it unclear which is which. I know that I have three, but three of what remains a mystery. That's probably something one would get used to, and at least it's not presenting information for the sake of looking busy, like the "People" tile.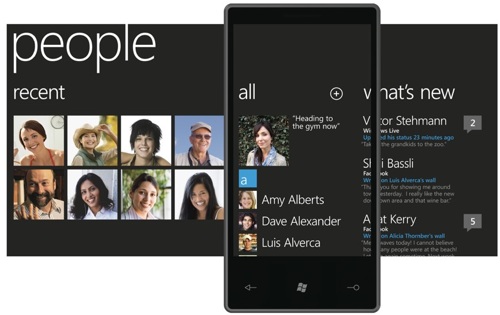 When tapped, People takes you into your contacts lists, populated from your favourite social networking site (as long as it's Facebook) - which we'll talk about later - but the tile itself displays rotating images related to your contacts, apparently at random. For a while we thought it might be related to when they update their status, but no - it seems the ever-changing display is simply eye candy designed to remind you how popular you are (or not).
A messaging tile shows you incoming messages awaiting your attention, but that's SMS messages only, as each email account gets its own tile and there's no universal mailbox here.
The next tile in our screenshot is one pulled out of People that represents a single contact, one of particular importance. This time you will get status updates scraped from Facebook and displayed on the tile, with pictures too.