This article is more than 1 year old
Still safe as houses: More CCTV for the masses
More app-equipped cameras for you to scare your pets with, apparently
Feature Last week, I looked at two home camera systems: Arlo from Netgear and Welcome from Netatmo. To recap, Arlo is pretty much a straightforward cloud-based CCTV system, offering you cameras with motion sensors and notification, together with an app to view things on your phone.
Netatmo's Welcome is a stand-alone camera – again with an app and notifications – but with the addition of facial recognition, so you know not only that someone is in your home, but who it is, if they've been seen before. This week's offerings build further on the basic idea of a camera, potentially making them a little bit more of a replacement for a traditional home security system.
Systems like these aren't, of course, the only option. As several commenters pointed out, you can roll your own system if you want. If you've an old PC lying around – or want to splash out on a small micro system like the Acer Revo One RL–85 – you could pop Linux on it, and add Zoneminder.
Zoneminder also supports X.10, which offers the possibility of linking to other automation and security devices. What you don't get is the sort of simple apps we've seen from Welcome and Arlo, with pop-up notifications. For the tech-minded Reg reader, a web interface may be fine. For the rest of the household? That's going to depend.
For a less DIY solution than Zoneminder, it's also possible to use a NAS as the heart of a monitoring system. Synology's latest Surveillance Station is a flexible package, and will still run on models several years old. It is, though, aimed more at businesses, and has a per-camera licensing model that means costs can mount up quite quickly. A new version is currently in beta and we'll be looking at that when it's released.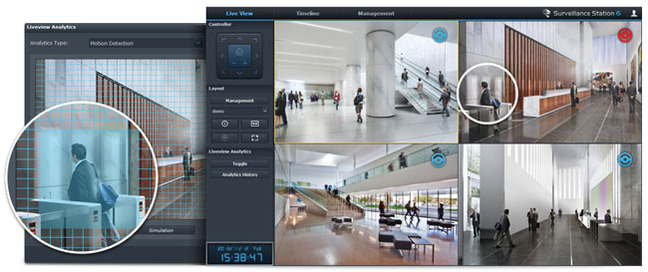 If you already have a NAS, you could turn it into a CCTV server
The crossover territory between surveillance and wider monitoring is where the two systems I'm looking at this week are venturing. On test are Piper NV, a stand-alone £230 camera that also includes Z-Wave and some environmental sensors, and Swann's NVA–460 £500 home security package, which includes a networked video recorder and a full set of traditional alarm sensors, too.