This article is more than 1 year old
Chinese customers to unfold their Huawei Mate X on 15 November
And rest of the world? When it comes, you'll likely need to Play Huawei for apps
Almost eight months after its initial debut at Mobile World Conference, Huawei's long-awaited Mate X foldable handset finally has a launch date.
In a Weibo post earlier today, Huawei opened pre-sales of the much-delayed phone, with units expected to ship to customers in China on 15 November. The cheapest model, which packs 8GB of RAM and half a terabyte of storage, retails at ¥16,999 – which translates to $2,400, or roughly £1,900.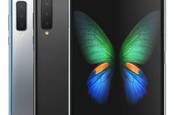 Teardown nerds return to the Fold with word of warning: Samsung kit still 'alarmingly fragile'
READ MORE
The Huawei Mate X packs the same Kirin 980 chip as the Mate 20 5G handset, which was released in July of this year. A follow-up already planned for next year, called the Mate Xs, will pack the more potent Kirin 990 chip from the recently released Huawei Mate 30.
Unlike the Samsung Galaxy Fold, the Mate X is completely flat when closed. This gives it a slimmer profile, making it easy to slip into a back pocket. And with no notches or bumps, the display is an unbroken quadrilateral. All the externally visible electronics – like the camera and LED flash – sit on the device's handle.
Huawei initially promised a July launch for the Mate X. That date was later pushed back to September because the company wanted to ensure the quality control was up to scratch following the Samsung Galaxy Fold launch debacle, where samples provided to journalists broke in a matter of days.
So far, there's no word on an international release. In a statement released earlier today, the company said its rollout strategy for the Mate X is contingent on the regional availability of 5G.
If the Mate X eventually launches overseas, it'll almost certainly ship without Google's default apps, which include the Google Play Store. This is a consequence of the ongoing embargo against Huawei by the Trump administration, which has put the firm and many affiliated companies on the Entity List, which forbids American firms from selling or licensing technology to those on it.
Instead, the device will pack the open-source version of Android, paired with the firm's own apps. As a company representative told this journalist at Berlin's IFA conference last month, it is investing heavily into its app marketplace, the Huawei App Gallery, to attract developers.
Whether that will close the gap enough to satisfy the ordinary phone-buying public is a moot point. ®