Google reveals Glass details in patent application
Lasers burning images onto your retina? What could go possibly wrong?
---
The US Patent and Trademark Office has published a Google patent application that provides a raft of details about that company's much-ballyhooed "Glass" augmented-reality spectacles.
The term Glass, however, is not sufficiently patentesian for the USPTO and Google's patent lawyers. The application in question, filed on August 18, 2011 and published during the agency's regular Thursday-morning application blast, is entitled "Wearable Device with Input and Output Structures".
The application's Claims – the meat of any such filing – describe in great detail everything from the structural components of the device itself, including its bridge, earpieces, and "brow portion", to its configurability, balance, and electronic components such as its "generally transparent display", camera, and a touch-sensitive input surface.
The device could communicate with other hardware either through a wired or wireless connection – likely both. That wired connection, the filing suggests, could be proprietary, USB, or even parallel. Wireless connectivity could be Bluetooth, Wi-Fi ("any IEEE 802.11 revisions"), or an alphabet soup of cellular protocols (including WiMAX and LTE), or Zigbee.
There's no mention in the application, however, of another Google patent application published this January, which describes a Glass-like device that shoots lasers from its frame onto your hand to project a keyboard.
But lasers aren't entirely absent from this application; it also describes the possibility of using lasers to do away with the display entirely. "Alternatively or additionally," it suggests, "a laser or LED source and scanning system could be used to draw a raster display directly onto the retina of one or more of the user's eyes."
And just to keep its options open regarding display technologies, the application also notes, somewhat open-endedly, "Other possibilities exist as well."
Since a picture is worth a thousand words – or, due to the convoluted lingo of a patent application, ten-thousand or more – we present one of the application's illustrations, with some of the details of one embodiment of the device as indicated by numbered tags: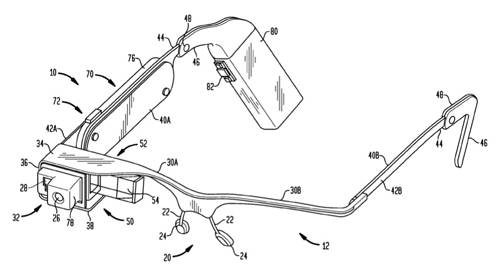 You think this is detailed? Dig into the patent itself for far more specifics (click to enlarge)
26 multi-resolution camera
28 light sensor for the camera
46 adjustable earpieces
50 display module
52 display prism housing
54 display prism
70 textured touch-based input surface
78 camera and sensor housing
80 circuitry and battery housing
82 communications port
The publication of Google's patent application comes at a time when the Glass project – or Project Glass, your call – is getting more than a little press due to the contest Mountain View announced on Wednesday: submit your idea for an innovative use of the device, and if your brilliance is deemed worthy, you'll be bestowed the honor of being permitted to pop $1,500 for a prototype.
Google is going out of its way to hype the Glass, which was first announced last April, followed a few days later by Goggle CEO Sergy Brin wearing a pair at a San Francisco fundraising event. Two months later, another hypegasm erupted when a pair of wing-suited skydivers sailed into the Google I/O conference in San Francisco bearing a precious prototype for Brin to don during his presentation.
Although Google may be garnering the lion's share of publicity, there are other alternative-reality glasses in the works, as well. Microsoft, for example, has filed its own AR-glasses patent application, Olympus has "smart glasses" under development, and even trendoid sunglasses vendor Oakley is planning its own reasonably intelligent glasses.
And then there are more-idiosyncratic efforts, such as the one by the DIY tinkerer who created his own augmented-reality glasses out of a pair of Vuzix specs, and the University of Toronto expert in wearable computing who said he was slapped around in a Parisian McDonalds by ruffians who tried to remove his home-brew digital glasses.
The Google Glass, however – either as revealed in one of the many embodiments as described in Thursday's patent application or as something either more refined or less expensive – appears to be on the near horizon as a purchasable product, and one that you won't need to win a contest to buy.
Perhaps you'll merely stroll up to one of Google's retail stores scheduled to open later this year, plunk down a chunk o' change, pop a Glass onto your face, fire it up, and blithely walk into a lamppost. ®