This article is more than 1 year old
Chinese search king Baidu testing Google Glass competitor
'Baidu Eye' is watching you
Baidu, the search firm that handles the requests of over three quarters of China's internet users, is trying out a wearable headset of its own – but it's hardly the svelte headset Sergey Brin's so fond of showing off.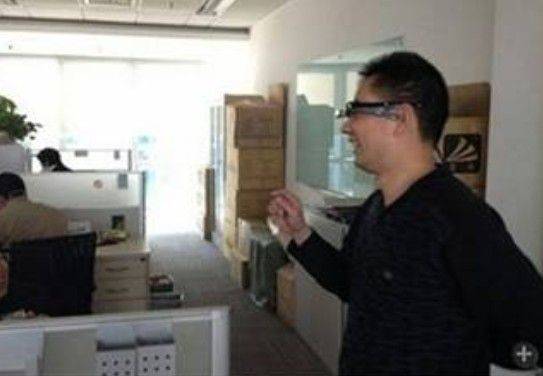 Sophisticated it ain't
The first photos of the prototype on Sina Tech show a clunky system using a small LCD screen over one eye with reported front-facing camera for image and facial-recognition searching. The glasses are audio-controlled, with sound coming from bone conductivity and microphones, and were part of an internal company project called "Baidu Eye."
Along with the headwear, Baidu is said to be building an app store and setting up open source security standards for developers, and will license the design out to other manufacturers. Power-control chips from Qualcomm gave a claimed 12-hours battery life.
The timing of the report was unfortunate, coming as it did on April 1, but now Baidu spokesman Kaiser Kuo has confirmed to Reuters that the glasses are indeed being tested and that some of the reported technology, particularly facial-recognition software, will be built into the design.
"What you are doing with your camera, for example, taking a picture of a celebrity and then checking on our database to see if we have a facial image match, you could do the same thing with a wearable visual device," Kuo said.
Kuo explained that Baidu was merely trying the idea out and hadn't made a decision on whether or not to enter the current craze for wearable computing. Google is expected to debut the first Glass spectacles at its developer I/O conference in May, but it's by no means alone in the wearable computing field, but most companies are focusing on an old-school approach.
One on the wrist
The current fad du jour is computing watches. The rise of the mobile has seen a decline in the number of people wearing wristwatches, and over the years plenty of companies have tried to re-imagine mankind's oldest wearable mechanical device for the 21st century – albeit with limited success.
In the mid-1990s Timex and Microsoft tried the Datalink watch, which used barcodes detected by an optical sensor to input information. Fossil and others tried similar tricks, but the general public seems disinclined to strap a PDA onto their wrist when they can just carry a smartphone in their pocket.
But recently there's been more of a buzz on the topic, with the thinking being that screen technology, battery life, and processor power might at last be at a point where the idea can become a marketable reality.
Devotees of the iPod mini have been using third-party wrist-straps to attach their devices for ages, and at last year's CES Sony released a SmartWatch that uses a Bluetooth hookup with Android phones to display basic PDA applications. Now Sony is reportedly upping its plans, and HP has also been making noises in this direction.
But Apple's iWatch patent has set tongues wagging. If anyone can convince people to strap a display on their wrist and pay for the privilege it's Apple, but Cupertino's Korean bête noir Samsung has also said it's putting skin in the game.
But there are bigger (physically at least) plans afoot. Microsoft has also been trialing a clunky bracelet for finger control and only last week Apple filed a patent application for a "wraps-within" iPhone bracelet using a flexible AMOLED display. The technology isn't there yet, but Cupertino wants to make sure that it's ready to have patent protection if it does.
The Eye of Baidu
But Baidu faces another challenge if it does decide to get into the wearable computing market. Washington is already twitchy about having Chinese equipment in its networks, and the thought of a head-mounted facial recognition system may be too much for regulators to allow.
People are already uneasy about the thought of Google having a permanent window into the lives of Glass wearers and those they record. There's talk of banning Glass hardware from drinking establishments, or for use while driving, but most people still have a measure of trust in the management of Google.
The Chocolate Factory is (sometimes correctly) accused of abusing its position as repository of the world's data. But concerns over Google will be as nothing to the thought of a few million Chinese government-approved search engine camera systems wandering through US cities, particularly in the eyes of some of the more rabid members of Congress.
El Reg is somewhat skeptical of the appeal of Google's Glass, and the Baidu Eye if it ever makes it into production faces similar basic problems. But such technology is coming – if not now then later – and working out how to deal with it is going to be an interesting legal question. ®