This article is more than 1 year old
Samsung releases pair of jeans that can't do anything except cover your legs and hold a Galaxy Z Flip 3
Who needs big pockets, right? Other than, you know, literally everyone
With the exception of iPhone fans, have you ever bought a mobile and thought, "I'm going to base my entire identity around owning this item of cellular technology"?
No? OK, well, don't tell Samsung Australia, which has partnered with Dr Denim, "one of Australia's most beloved jeans brands" apparently, to release the Z Flip Pocket Denim.
Let us explain. So there's this phone, right, called the Galaxy Z Flip 3, which is Samsung's latest punt at the "pholdable" schtick.
Now, unlike the Galaxy Note 7, Sammy's folding phones have failed to set the world on fire. In fact, the first go (the Galaxy Fold) was utter shite.
But the Korean electronics giant forged ahead despite no one really wanting or needing their phone to fold, and engineered out the design faults that caused initial units to fall apart in the hands of reviewers.
For a time in 2019, folding phone fanaticism gripped the industry, with world+dog – including, apropos of nothing, Pablo Escobar's brother – flaunting their me-too devices.
No one cares anymore. We're all a bit haunted by the events of '20/21 and still don't really want or need our phones to fold. That's been reflected in Samsung dropping the price of the Galaxy Z Fold 3 and Galaxy Z Flip 3, and positioning them as "not just smartphones but fashion statements," as we reported earlier this year.
So how better to complement your fashion-statement phone than with a pair of fashion-statement jeans? Enter the Z Flip Pocket Denim. [They really can't be selling many of these phones – ed.]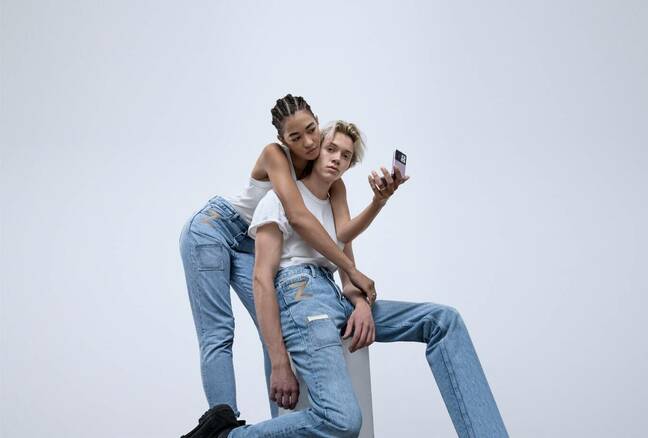 You could be as happy as these people
So what do these wundertrousers do? Are they the new frontier in wearable tech, seamlessly integrating with the Z Flip 3 to give off pleasant vibrations whenever someone WhatsApps you a hilarious TikTok?
Sorry, no. But they do have a pocket. Not just any pocket, mind, but one perfectly tailored to hold the diminutive gadget, which folds horizontally into a square instead of vertically outwards into a fondleslab like the Z Fold 3.
"Who needs big pockets?" the PR drone writes, probably stifling a laugh because the answer, obviously, is everyone. "They take up too much space, they don't look stylish, and the latest phones slip and slide inside them. Redesigned so that they exclusively fit the Galaxy Z Flip3, the Z Flip Pocket Denim jeans make big pockets a thing of the past."
Right. Except the fact that your correspondent's regular-sized pockets hold a phone, wallet, vape, and keys all at the same time on every trip outdoors. Let's not forget that women also want jeans with functional pockets to be aimed at them.
Despite this absolute truth, Hayley Walton, head of brand marketing at Samsung Mobile, doubles down, saying: "Smartphones are often not pocket friendly," despite them being the most pocket-friendly phones ever. Like, that is the one major selling point of every mobile telephone to come out since the 00s.
She continues: "So we've leveraged Dr Denim's style credentials to design jeans that shake up the pocket norm and perfectly fit our compact Galaxy Z Flip3. Our Galaxy Z Flip3 users expect the very best in design and pocketability, and what better to accompany our premium phones than the perfect pair of bespoke jeans."
Indeed. Let's drill down into the specs. "With no need for large pockets when using the stylish new Galaxy Z Flip3," the release burbles, "the back pockets on the jeans have been removed, with one 'flipped' to the front thigh and scaled down to the exact dimensions of the Galaxy Z Flip3. The original front pockets have been stitched over with two statement Zs – a stylish nod to the innovative, foldable Galaxy Z Series."
So they've actually rendered the most useful pockets in a pair of jeans useless. And, with no disrespect to Tinky Winky, we're not sure very many male customers will be rushing out to buy a handbag to make up for that lost capacity.
Unless it's got a big "Z" on it?
There are only 450 pairs being made, so go forth Australians, and start to build your identity around owning a Galaxy Z Flip 3 – because the phone is thrown in too. "How much?" we hear you cry. AU$1,499, which is the exact price of the 128GB model.
They're practically giving them away! ®