Apple 24in iMac (March 2009)
Not enough of an upgrade?
---
Again, the prices of all these models seem to be slowly creeping upwards when compared to their predecessors, and it's both disappointing and puzzling that Apple is increasing its prices during a recession. Apple's pricing has been a lot more competitive since it adopted the same Intel processors as all its PC rivals, and it would be a shame if it risked losing its recent market share gains by returning to its high-priced habits of old.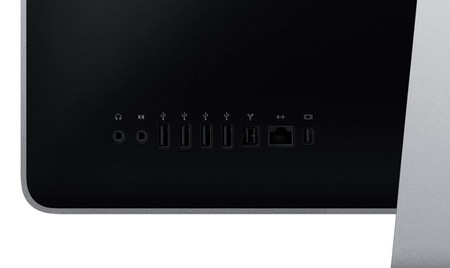 Bye-bye, Firewire 400...
And, of course, there's the little matter of Intel's new Core i7 processor, which is nowhere to be seen in the new iMac range. We wouldn't expect to see the i7 in the lower-end models, but its omission in even the high-end £1799 model looks like a missed opportunity. At the moment, the i7 is still mainly being used in high-end gaming machines, and that's a market that Apple just doesn't operate in, so they're not risking too much by passing it up for now.
Even leaving the i7 aside, there's still no quad-core option available, even to folk wanting a build-to-order machine. All three speed grades of iMac still use a Core 2 Duo processor. Yes, they're laptop CPUs, but Intel does make a four-core chip for notebooks. Cooling shouldn't be that much of an issue, surely?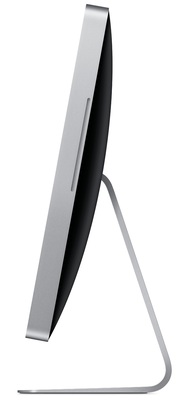 A laptop on a stick
Verdict
If you're looking for a compact and stylish desktop machine then the new iMac will fit the bill very nicely. The 24in, mid-range model reviewed here is certainly the most powerful iMac we've ever seen. But nobody buys a Mac just because they want an extra few MHz here or there. We can't help remembering that the original iMac was a low-cost machine with an exciting design that sold like hot cakes and rescued Apple from oblivion in the process. You do get significantly more bang for your buck with the latest models, but it's a little worrying that you now have to budget the best part of £1000 even for the cheapest model.
But more than anything else, this latest update just seems rather unadventurous. Mac fans are used to seeing exciting new designs from Apple on a regular basis – and they got that just a few months ago with the totally redesigned MacBook. At the moment, it's the MacBook that is really Apple's flagship product and we'd like to see a more ambitious iMac upgrade that restored it to its former glory once more. ®
More Mac Reviews...
| | | | |
| --- | --- | --- | --- |
| MacBook Pro 17in (Early 2009) | MacBook Pro 15in (Late 2008) | MacBook (Late 2008) | White MacBook (Early 2009) |

Apple 24in iMac (March 2009)
As stylish as ever, and more powerful than before, but the price is slowly creeping upwards
Price:
£949 (20in) £1199-1799 (24in) As reviewed: £1499 RRP